... AND IN OTHER NEWS
Pflugerville Independence Day Celebration Rocks With HES Gear
For the City of Plugerville's annual July 4th Celebration, the Texas town relied on local vendor Miguel Lara Productions to provide the lighting equipment, featuring their High End Systems automated LED rig and HOG4 control, purchased through Austin-based LightParts, Inc. Michael Ojeda of MLP spearheaded the lighting portion of the project, and spec'd four SHAPESHIFTER C1's and six SolaWash 37s for the event at the city's new stadium, the Pfield.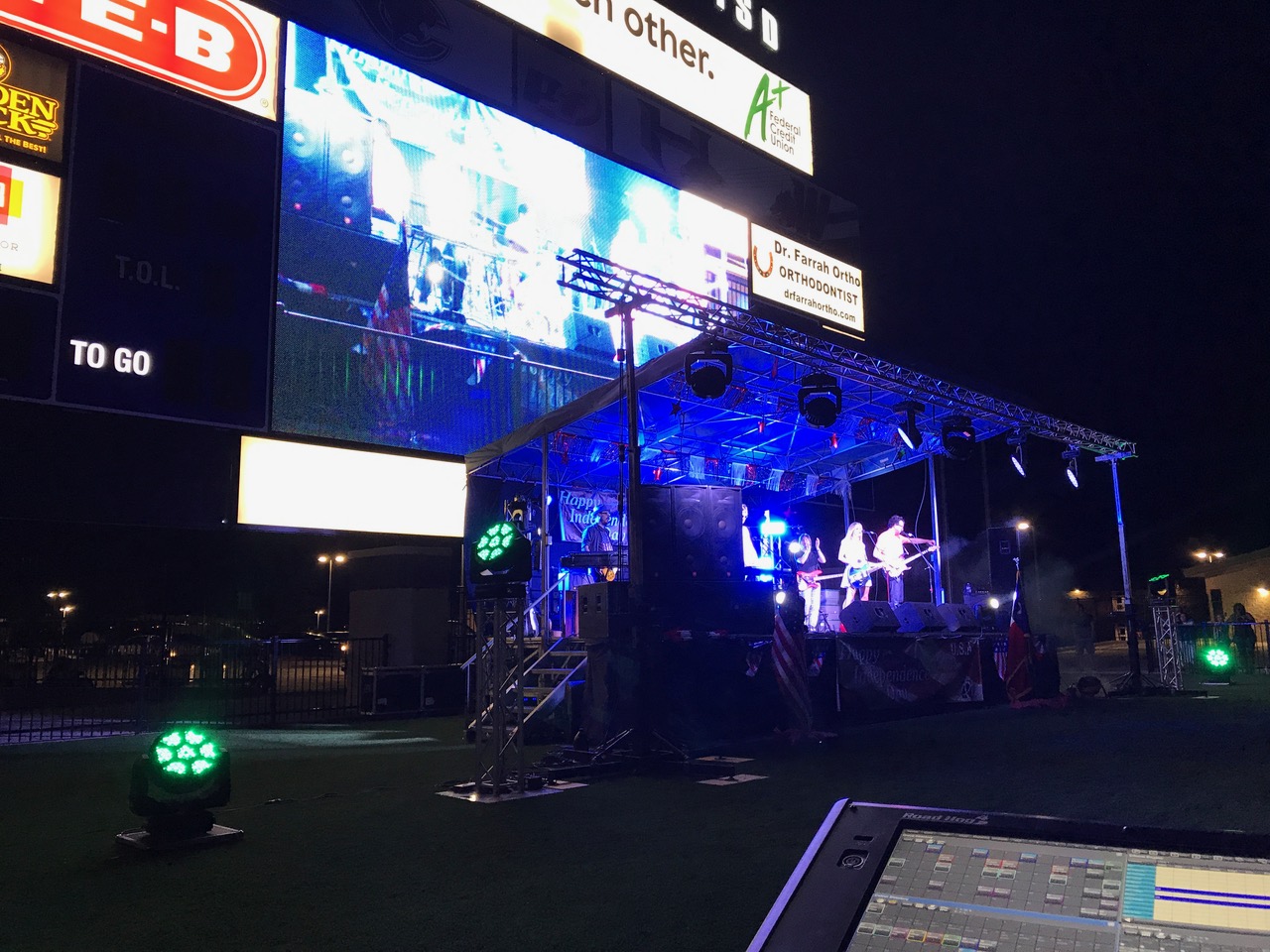 Ojeda explains, "We were asked to join the celebration at the last minute, and this year the city moved this event from the lake to their new stadium. At The Pfield, the crowd wasn't able to be very close to the stage, so the city wanted it to be well lit - but also powerful enough to reach the crowd in the stands. I was asked to put something together with that idea in mind, while staying within their budget.
"I used the Solawash 37s as front lighting to illuminate the bands on stage, and placed the SHAPESHIFTERs outside of the stage area to make the production look a little bigger. I also used them to shoot beams towards the sky - the C1's have some awesome macros which made it very easy to program. I was able to achieve the 'Red, White and Blue' of Independence Day without any problems, and as they are very powerful fixtures, the SHAPESHIFTERs were noticeable from far away! I love my C1's because they are reliable, powerful and consistent in their functions and performance. And when it comes to efficiency, their power draw is quite minimal which benefits my clients."
Ojeda operated the show from his RoadHog 4 console, also purchased through LightParts. "Running the console is my favorite part of the job! I get to be creative and program based on the show's needs. I love my RoadHog 4 - I find it simple but very powerful. It is easy to understand and very user friendly, and powerful because there is so much you can do now with the latest updates; I was able to pixel map the C1's and 37's. The console makes my job easy because I have a bank of pre-programmed cues, scenes, color palettes and effects that puts me ahead as soon as I turn it on."
In closing, Ojeda comments, "I started out back in 2005 with a few low cost LED bars and a couple of club owners as clients. I have a good ear for sound, so I decided to start learning more about sound and started working as an engineer for local bands and smaller sound companies. Once I got in with more clients, I was able to start pushing lighting into some of these shows. I have always been a visual guy and I love lighting; I soon took my first HOG programming course and remember my jaw dropping when I saw the High End demo room! Working with Robert and his team at LightParts, I have been able to start building my HES inventory. They have given me all the options to help build up my High End rig. and I am very grateful for that opportunity. I have always based my business on quality service and products. Thanks to my relationship with LightParts, I am now able to do it with my lighting rig, and I hope to continue growing it with more High End Systems gear!"
###